Offering the very finest Indian Cuisine, Ballingdon Valley Indian restaurant provides an unusually good dining experience. Serving dishes cooked with only the freshest ingredients, customers can expect exemplary service from our staff whether eating in, or taking away. We are fully licensed restaurant, air conditioned, and offer an extensive Wine list. We will endeavor to make your food experience at Ballingdon Valley restaurant a memorable one and hope that it will leave you with a desire to come back, again and again.
Finalist for the Euro Asia Curry Award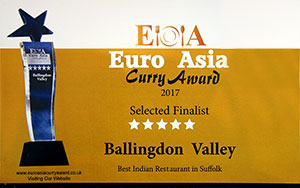 Ballingdon Valley is a selected finalist in the Euro Asia Curry Awards 2017!
Ballingdon Valley Indian Cuisine chef Habibur Rahman was proud to receive the prestigious Best Chef of the year award 2014
Read more...
Opening Hours
Seven days a week
12.00 noon to 2.30pm and
5.00pm to 11.00pm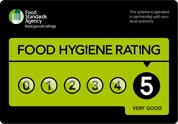 ---